Are you wondering, "when should I replace my roof?" Let HUDCO Roofing and Exteriors help you out! Nothing lasts forever. This statement also applies to that roof over your head. Even for the most robust and well-maintained roof, the moment of being replaced will arrive. 
But how do you know when it is time for a roof replacement?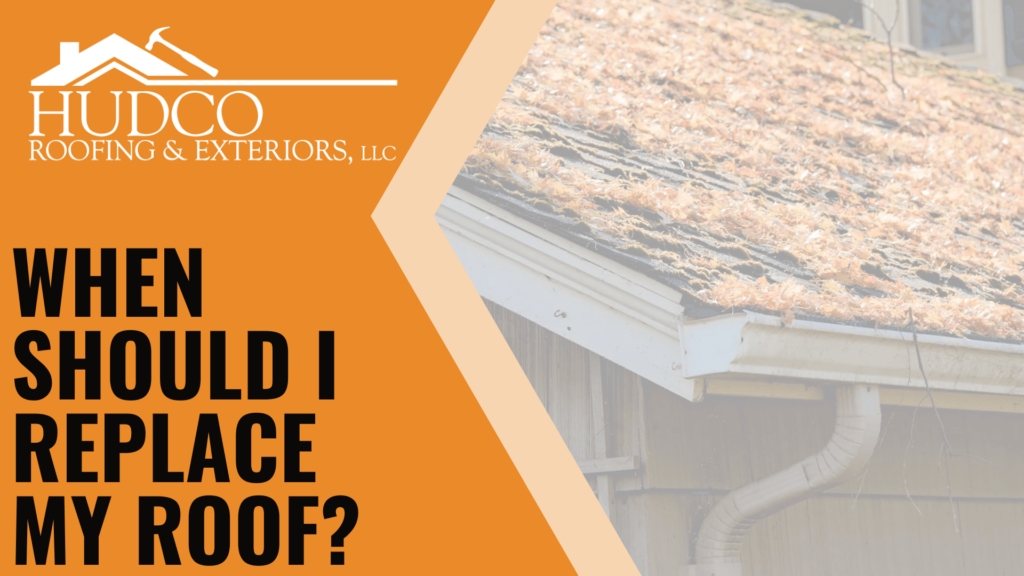 Let's see when it is advisable to replace your roof entirely.
Your Old Roof Overpasses Its Expected Lifespan 
Eventually, all roofs will need to be replaced. Metal and clay roofs can last for centuries. On the other hand, asphalt roofs used to last only a few decades. 
Besides, if you replace your roof, you may get a uniform, matching appearance depending on the material you use. Wood shingles are a good example of this, as they naturally age and become grey over time. 
If you only replace some of your roof's wood shingles, you will see a noticeable difference in your old wood shingles. So, the best option for those with a leaky wood shingle roof is to perform a complete replacement.
Your Roof Does Not Meet the Local Building Codes.
Keeping up with today's construction requirements may require a roof replacement sometimes. Indeed, you may save money by installing new shingles directly on top of old, defective ones. But remember that you cannot have more than two shingle layers on your roof and comply with building codes. 
So, if you already have two layers of shingles on your roof, you'll have to replace them the next time you have a problem with it.
If you ever decide to sell your house, you may have problems because your roof does not meet valid construction requirements. Request that a roofing expert evaluates this issue the next time they inspect your roof. So, you may learn if your roof complies with local laws.
The Damage Has a Large Extension
The roof may be beyond repair if the damage is severe. For example, if a large tree falls on the roof, the damage may be too extensive to repair. Likewise, if your roof has several leaks and they are not limited to a few spots, now is the time to repair them.
A Natural Disaster Caused the Destruction
A new roof may be your only choice if recent natural disasters have destroyed your house. Even if the damage seems limited, a tornado or hurricane might have weakened the structural integrity of your roof. A roof inspection can tell you if you need to replace your roof after a natural disaster.
Repair and Replacement Costs Are About the Same.
Installing a new roof is typically more expensive than repairing the old one. But, sometimes, the difference in cost is not significant. If repairs will only be temporary, it may be more cost-effective to have your roof replaced instead of repaired.
Repairing your roof may cost, for instance, only $500 or $1,000. But a full roof replacement is the best option because it will save you more money in the long run.
You Desire a New Roof.
From an outsider's perspective, exterior transformation is the most visible benefit of a new roof. With a new roof, you may give your house a much-needed facelift. No matter what the material, a new roof always improves the appearance of a house.
If your roof is now covered with old wood shingles, replacing them with new ones will restore your house to its original splendor. Also, you can improve the appearance of your house by changing the color of your asphalt shingles. Likewise, you might drastically change your home's appearance by choosing a completely different style of roof.
Do You Need a New Roof? HUDCO Roofing Can Help You!
Louisiana property owners have relied on Hudco Roofing for roofing solutions for the past 25 years. Our roofers have completed extensive training to repair and install many types of roofing systems. 
HUDCO Roofing & Exteriors can provide you with the help you need. Getting in touch with us can be done by calling us at 225-364-1007. We service areas in Bossier City, Shreveport, and Baton Rouge, LA.